If you're wondering what to do for Valentine's Day, get away from home and head for somewhere special. We've come up with a list of Britain's top 5 romantic attractions for Valentine's Day, also perfect for a couples' break at any time of year.
Tintagel Castle, Cornwall
If you and your partner are in the mood for a medieval romance, there could not be a more perfect location for it than Tintagel Castle in Cornwall. While many Cornish locations already have an old fashioned romantic feel to them, this place really stands out. The remains of a 13th century castle sit upon rugged coastal cliffs, offering stunning views and an air of enchantment which makes it perfect for couples.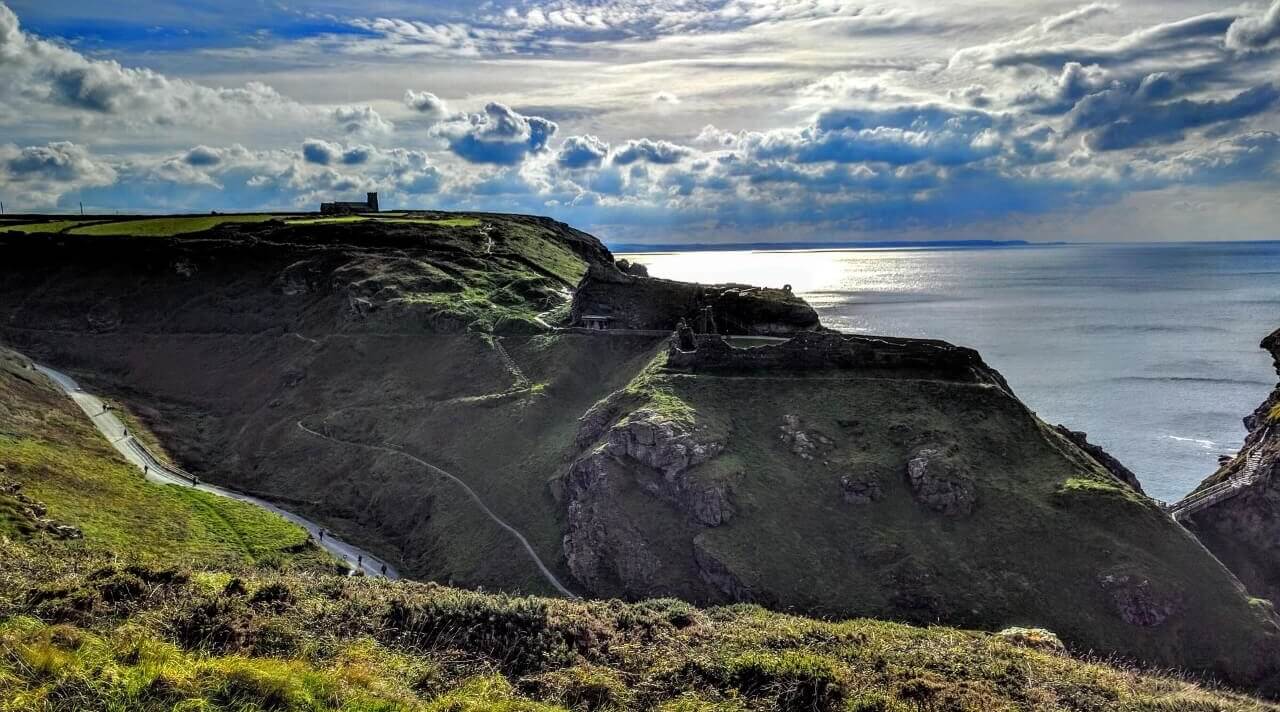 With links to the legend of King Arthur, and set in a location with historical importance even before the castle was built in 1233, Tintagel Castle allows any couple to immerse themselves in a magical blend of history and mystery. Standing among the ruins together, you won't be able to help but imagine yourself at the heart of a romantic medieval tale of knights and maidens.

Some walking is involved if you want to soak in all the breathtaking sights in the area, and it's a steep climb up a long set of stairs to get to the castle itself, so be sure to wear sensible footwear for your visit. The effort is well worth it for the view over the surrounding landscape and the sheer romantic attraction of the place.
Loch Lomond & The Trossachs National Park
What could make for a more romantic getaway than a trip to bonny Scotland, and where in Scotland is more beautiful than the shores of Loch Lomond? The peaceful and natural environment of the loch and the national park surrounding it are the ideal escape for couples looking to spend some time together away from crowded cities.
There's plenty to do here on a couples' holiday, whether you want to unwind in style or are hoping for something a bit more active. A relaxing cruise across the loch is a wonderful way to immerse yourself in the glory of Scotland's finest landscapes while kicking back in comfort. If you're looking for a little time alone together, there are endless walking trails you can take to seek out a secluded beauty spot of your own.
More adventurous couples with a bit more hiking experience might want to try a trek up one of the Munros. A Munro is a Scottish mountain with a height of more than 3000ft, and there are 21 of them in the national park around Loch Lomond. Conquer one of these challenges together and be rewarded with an unrivalled view across some of Scotland's most magnificent scenery.
Fairy Glen, Snowdonia
North Wales is home to a stunning beauty spot known as Fairy Glen. Hidden in a deep, secluded valley near the village of Betws-y-Coed in the amazing Snowdonia National Park, it is a gentle stream flowing elegantly between the sides of a rocky gorge, and it's not hard to see how this reputedly enchanted place got its name.
This romantic attraction makes a perfect destination for a couples' visit, giving you a real opportunity to lose yourself in the magical ambience of your surroundings as you take a peaceful walk alongside the trickling water. It's also an extremely photogenic location, with plenty of ideal spots for a happy couple to take some pictures together.
Chatsworth House, Derbyshire
Home to the Duke and Duchess of Devonshire, this stately mansion in the Derbyshire Dales looks straight out of a period romance. In fact, it's said to have been the inspiration for Mr Darcy's country estate of Pemberley in Jane Austen's much-loved romantic novel Pride and Prejudice, and was used for the exterior scenes of the fictional house in the 2005 film adaptation of the book.
It's not hard to see why Chatsworth House inspired - and continues to inspire - such tales of romantic attraction. Surrounded by the stunning landscape of the Peak District, and sitting on the bank of the scenic River Derwent, it's impossible not to be charmed by this place, making it the ideal location to visit as a couple.
Touring the house itself feels like taking a step into a more elegant period of history, as you'll find yourself surrounded by furnishings and decor from the Georgian and Regency eras that serve as the settings for so many romance novels. Just as beautiful are the huge and wonderfully presented gardens, which are the perfect setting for an afternoon's romantic escape, losing yourself among the fountains, sculptures and flowers in the landscaped grounds of this quintessential English country mansion.
Lulworth Cove and Durdle Door, Dorset
For couples who love beautiful beaches and striking coastal scenery, the area of Dorset's Jurassic Coast around Lulworth has so much to offer, making an ideal location for a romantic visit.
The main attraction, Lulworth Cove, is an incredible secluded cove which formed naturally from the coastline. The view as you approach it is a striking example of natural beauty, and once you get down into the cove proper it's no less impressive. Crystal-clear water laps against a gorgeous white pebble beach, making this the perfect location for a romantic walk by the sea.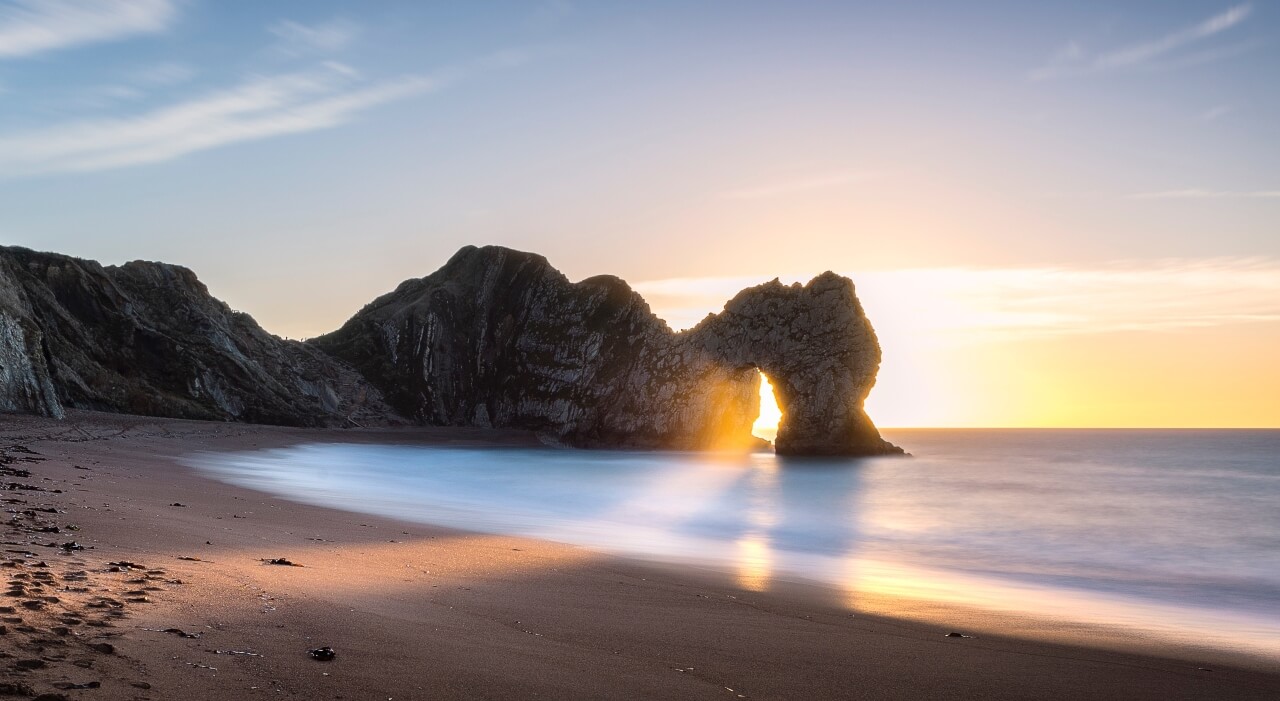 If you're a true believer in long walks on the beach (and up and over the nearby cliffs), another particularly memorable sight in the area is Durdle Door, a vast natural limestone arch jutting out into the sea. It's a little bit of a trek, with some steep slopes to contend with, but the sights along the way, and Durdle Door itself, make it a trip worth taking.

Dorset as a whole, with its unspoilt countryside, quaint little seaside villages and inspiring coastline, is a fantastic place for a romantic break, and a trip to Lulworth Cove is the icing on the cake.
Wherever you choose to go for Valentine's Day or a spontaneous romantic getaway, make the most of your time together in the perfect holiday cottage, luxury lodge, quirky holiday home or cosy glamping pod.