Autumn is a wonderful time to holiday in Cornwall, with mild temperatures and beautiful seasonal gardens, but what to do in the wet?

The sea and beaches are a great draw when the weather's dry, but the autumn showers may find you searching around for more sheltered places. In fact, a day or two of rain can present great opportunities to explore, with many fascinating destinations and attractions having just opened up for the new holiday season.
If you're looking for things to do in Cornwall in the wet, we've put together a few ideas to help you plan. Here's what to do in Cornwall in the rain.

Maritime Museum, Falmouth
While it might be too wet to be outdoors at the seaside, you can seek shelter in the National Maritime Museum at Discovery Quay, with its fantastic panoramic views over Falmouth Harbour. This iconic building has an impressive 15 galleries over five floors, and visitors are taken on an inspirational journey to discover the influence of the sea on history and culture. See how boats have changed over the years, and learn the stories of memorable boat heroes and sportsmen and women. Don't miss the live exhibits, with teams of talented craftsmen using traditional methods of restoring, conserving and building boats in the Museum's own workshop.
Eden Project, near St Austell

This amazing and unique venue, transformed from a china clay pit, first opened its doors in 2001. It showcases almost two million plants from all over the world in three climatic zones, and is described as a 'horticultural extravaganza'. Enjoy the tropical heat of the largest indoor rainforests in the world with a spectacular waterfall, dare to go on the canopy walk amongst tree tops, and see rubber trees, cocoa beans, bananas, nuts and spices. In addition, there's a huge indoor garden with a Mediterranean climate - perfect for warming yourself up when it's chilly outside! There's lots to do here so allow time to enjoy it.
Flambards, Helston
Kids love Flambards Theme Park - there's plenty of cool stuff for them to do and it's one of the most popular wet weather attractions in Cornwall. Whilst older ones brave the sky-high thrill rides, the little ones can romp around to their heart's content in the creative soft play areas. If they're dinosaur mad, the park's Jurassic Journey is just the thing, and they'll love to follow up with a 'Dino Dig' to uncover fossils.
Blue Reef Aquarium, Newquay
In Cornwall, you're never going to be far from water-themed activities, and one of the best is in Newquay. As its name suggests, the Blue Reef Aquarium has a fascinating coral reef, home to exotic species such as loggerhead sea turtles, reef sharks, rays, moray eels and hundreds of prettily coloured fish. These are ideally viewed by walking through the amazing underwater tunnel which offers a rare opportunity to get right up close to some of the more unusual sea and freshwater creatures - imagine coming face-to-face with a pufferfish or a caiman!
Cornish Belle, Bodmin
Steam engine enthusiasts should head for the Bodmin and Wenford Railway where they can hop on to one of the country's finest steam trains and take a 13-mile round trip through the Cornish countryside. It's a full size standard-gauge and runs between Bodmin General and Boscarne Junction. There's also the chance to experience life as a driver by signing up to an experience day or, if you enjoy a real touch of Victorian opulence, why not pre-book a lunch or dinner on the Cornish Belle?
Lanhydrock, Bodmin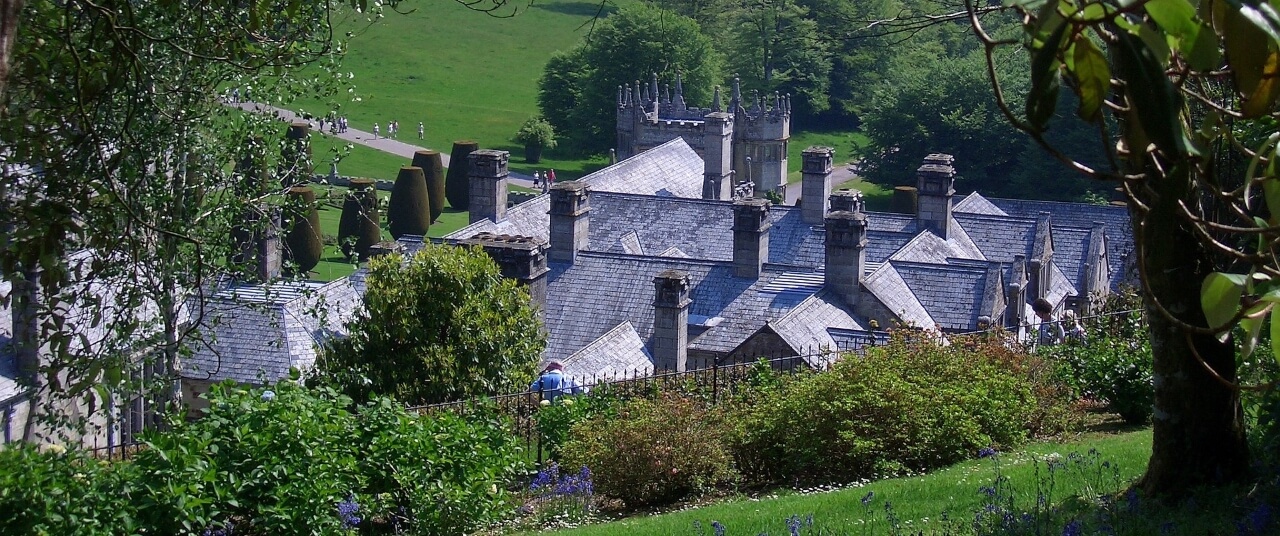 The National Trust's Lanhydrock is refurbished in high-Victorian style. It depicts the upstairs and downstairs typical to the era so expect the contrasts of elegant reception rooms and spacious bedrooms with kitchens and servants' quarters beneath. If the rain ceases even for a short while, dash out into the gardens to see the pretty herbaceous borders and formal parterre.
Carnglaze Caverns, Bodmin
Just to the southern edge of Bodmin Moor and tucked deep into the hillside, a fascinating underground experience awaits you. Pick up a map and torch, don safety hats and make your way into these interesting man-made caverns. As the only slate mine in Cornwall, Carnglaze Caverns is an important part of the county's mining heritage. The short guided tour ends at impressive underground pools with crystal clear blue-green water.
Tips for a wet weather holiday
So if your family are asking you what to do in the rain on holiday, you've now got some great ideas. You might also find these tips handy to help things run extra smoothly.
Only camp if you are either a seasoned camper or you don't mind if you have to pack up and go home early.
Bring rainwear that is light and easy to carry. Ensure that the packing list includes raincoat, brolly and waterproof trousers. Buy wise and you'll find that all can fold up small and will be no trouble to carry around when you reach your rainy-day destination of choice.
Take appropriate footwear. Second to flip-flops, wellies are the most popular choice of footwear in Cornwall. Whether they're plain navy or floral and striped, they get high priority if you're short of packing space.
Layer up. It's a good idea to pack layers - go thin and thermal!
Pack board games. After an exciting day out, you're back in your warm, cosy holiday home. There's still a little bit of energy left - it's the perfect time to bring out the board games. You can even stick to the holiday theme - Cornish Smuggler or the Cornish edition of Monopoly!
Cornwall is often warmer than the rest of the country at this time of year. But, should rain persist, make the most of it!
Jennie Maddon is a freelance writer