New Year Breaks

If you have had a lovely but busy family Christmas, it might be a treat to have a New Year's Eve cottage break. Just a couple of nights with friends or family over New Year might be fun and restorative as you will be able to both party together and enjoy the beautiful scenery of your rural location. Imagine counting down the seconds in a private hot tub under a starry sky while sipping the obligatory glass of Prosecco.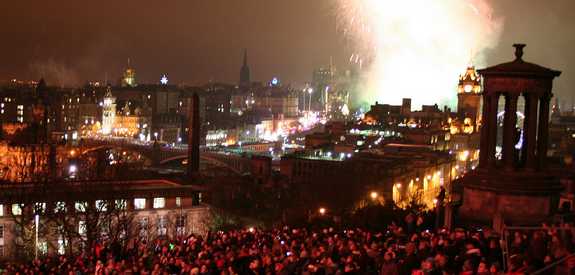 If you are looking for a New Year's Eve break in the UK, our cottages, lodges and cabins give you a fantastic choice of locations.
New Year or Hogmanay in Scotland is always special. Celebrate with friends and sing Auld Lang Syne in the place that has made the celebrations its own. Our Loch Lomond lodges are perfect for this and a number interconnect and can be booked together to accommodate bigger groups. We also have wonderful eco lodges at John O'Groats and lodges at Portnellan in Perthshire.
Image Courtesy of: Robbie Shade, 'Fireworks', CC 2.0
Why not spend New Year at one of our fabulous Scottish hideaways?
Hogmany Traditions...
Hogmanay has many traditions. The most popular one is first-footing, where the first person to enter the house after midnight brings gifts such as food or coal. First-footing is supposed to affect the household's fortunes for the coming year, so be careful who you let in! Someone with fair hair and female is considered to bring bad luck. Ideally you want a tall, dark man as the first over your threshold.
Another tradition is cleaning the house before Hogmanay. (We don't recommend you do this one if you are on holiday!) When open fires were common, clearing the ashes and laying a fresh fire for a new year was a good sign. So too, was the burning of juniper which was believed to ward off any evil spirits.Cleaning the house also extends to clearing the debts and paying bills for those fortunate enough to be able to do so.
In Stonehaven in Aberdeenshire, a procession of around 40 people swing balls of burning material by wire or chains around their head. The weight of the ball and chain means that it takes considerable strength to swing each ball. Eventually the fireballs are thrown into the sea. Crowds gather to witness this unique spectacle.
If Scotland is too far, we have many cosy and well equipped cottages around Polzeath in Cornwall. These 4 and 5 star properties are all very well equipped and will give you a taste of luxury perfect for inspiring a fresh start for the next year.
The new year is a great time to visit Par Sands Holiday Park in Cornwall. Here you are right on the beach which is perfect for that New Year's Day walk that will blow the cobwebs away. A New Year's Day dip in the sea may be tradition you want to start or continue if you are brave. Perhaps bring a wet suit.
If you visit Padstow (30 mins drive from our Polzeath properties) on the 1st of January you will experience Mummer's Day. This festival involves the practice of guise dancing, which involves the performance of a traditional play (known as a Mummer's play) whilst wearing a disguise, traditionally a blackened face, which allowed the players to lose their inhibitions and perform outlandishly in return for food or money. The practice of blacking one's face signalled a contrast to the summer festivals, such as the Obby Oss, during which white would be worn to herald the spring.