The beautiful county of Herefordshire is steeped in history. Famed for its calm pace of life, scenic countryside, and charming market towns and villages, a holiday here really can be like stepping into the past. With Tudor houses, local museums, and even prehistoric monuments, here are some glimpses of Herefordshire's heritage that you won't want to miss.
Hereford Cathedral
No visit to Herefordshire is complete without a visit to Hereford Cathedral, a magnificent place of worship which dates back to the year 1079. The looming architecture and vast stained-glass windows may give this building a grand and imposing atmosphere, but the friendly staff make it an inviting place to visit and it's well worth taking a guided tour. The cathedral is also still an active place of worship, as it has been for almost a thousand years, and guests are invited to join in if they wish to do so.

The building is home to some amazing ancient artifacts that you'll also get a chance to see during your visit. One that's definitely worth a look is the Hereford Mappa Mundi, a depiction of the known world drawn on calfskin in the 13th century. It's the largest remaining map from the medieval period, and despite its level of detail, it is believed to have been created by one person. Another one not to miss is the preserved Chained Library, dating back to the 17th century, when library books were so valuable that they were shackled to the shelves to prevent them from being stolen.

Black-and-white Tudor buildings
Herefordshire is famed for having a large number of houses built in the historical half-timbered style associated with Tudor England. The black wooden frames of these properties strike an enchanting contrast with their white walls, conjuring up romantic images of days gone by.
You can see half-timbered houses all across the county. Hereford boasts a particularly superb example of this type of building, the Black and White House Museum, which also has a range of items on display showing how everyday life was lived in the Jacobean era. Grange Court in Leominster is also worth visiting, a fantastic blend of tradition and modernity with plenty of exhibits explaining local history.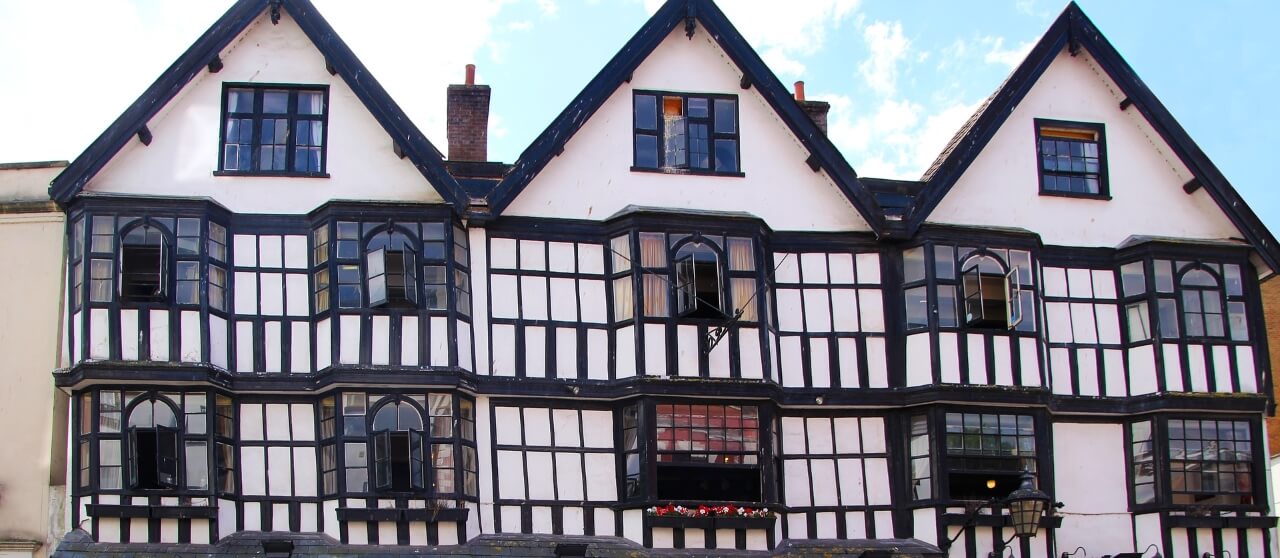 If this style of building has caught your eye, it might be worth following Herefordshire's Black and White Village Trail, which gives the opportunity to see superb specimens of half-timbered construction in a whole range of different places. With a route winding through picturesque villages such as Weobley, Eardisland and Lyonshall, it's a wonderful way to take in local history while exploring the area.

Brockhampton Estate
A National Trust property near the town of Bromyard, Brockhampton Estate is both a perfect place for a walk and a wonderful way to take a step back in time. The grounds of the estate offer a range of routes for you to take a countryside stroll, explore the area and engage in fun outdoor activities suitable for all ages. You can spot wildlife, take the dog for a walk, or just enjoy the rural atmosphere.
The real historical appeal of the place, though, is the Brockhampton manor house itself, which despite dating back to the late 14th century has seen use as an ordinary home as recently as 2014. The inside is laid out to represent the centuries of human habitation the house has seen, with each room depicting a different period of its history. There's a medieval great hall, a 17th-century parlour, an inter-war sitting room, and more, making for a fascinating trip through time. The gardens and orchards around the estate are similarly designed to evoke different periods of inhabitation, as well as changing with the seasons to ensure this is an enchanting place to visit all year round.
Ledbury
The market town of Ledbury has so many historical sites it's impossible to pick out just one, and anyone interested in Herefordshire's past will want to take a day trip here. Start at the Ledbury Heritage Centre, a local museum based in a building which itself dates back to around 1480, when it served as a grammar school. From there you can take a walk along the cobbled Church Lane, with its many traditional buildings, all the way to the medieval church which was built in the 8th century.
Nearby you'll find plenty of other historical exhibits and displays. Visit the 16th Century Painted Room, a room with impressive decorated walls which were only uncovered in 1988 but are believed to have been created in the Elizabethan era. Also stop in at the Butcher Row House and Folk Museum, a volunteer-run operation which gives a comprehensive overview of local history and has a range of artifacts on display. And just down the road is the Master's House, a restored building from a medieval hospital complex which currently serves as a library and community centre – you can see the mansion house, chapel and great hall as they would have looked in the past.
Arthur's Stone
For some truly ancient history, make the journey to Arthur's Stone, which lies along a countryside lane outside the village of Dorstone. This Neolithic monument, constructed from large slabs of stone, was built around 5,000 years ago to serve as a tomb marker and probably also a site for ritualistic gatherings. While there's not much to do here beyond viewing the stones and reading a few plaques, the atmosphere is charged with history and it's a perfect spot for quiet contemplation of the distant past.

The stone has been linked, like many other prehistoric sites across the country, with the legend of King Arthur. The myths range from the suggestion that the monument was erected to mark the site of one of his battles, to the somewhat more unlikely explanation that Arthur killed a giant here, with the marks on one of the stones left there when the giant fell.

These are just a few of our favourite historical attractions in Herefordshire, and there are countless more out there to be discovered. Book your Herefordshire Holiday Cottage or luxury lodge and start exploring.