Though surfing is often associated with balmy seas and tropical climes, the UK has a thriving surf scene as well, with a number of perfect places to catch a wave. Here's our view on where to find the best surfing conditions in the UK - some of these places might surprise you!
Fistral Beach, Cornwall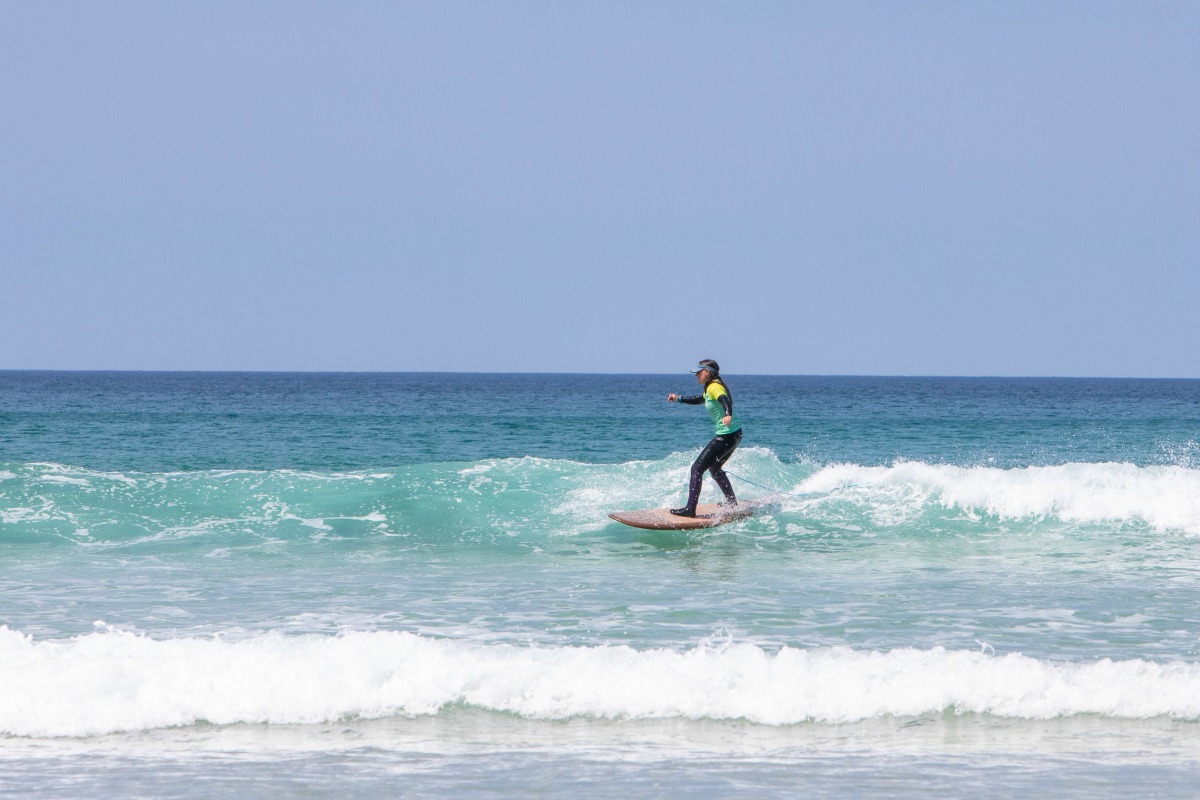 Widely known as the best surfing beach in the UK, Cornwall's Fistral Beach in Newquay definitely lives up to its reputation. Its location means it picks up consistent waves whatever the weather, though conditions can get too intense for beginners at times. Its picture-postcard looks, with clear blue seas and a beach of golden sand, only add to the appeal.
The downside of its popularity is, of course, that Fistral Beach gets very busy at the height of summer, not just with surfers but holidaymakers of all kinds. Even during winter, you're unlikely to find it empty, so if you're reluctant to rub shoulders with too many of your fellow wave seekers, you might want to consider visiting another of Cornwall's top surfing beaches instead.
Watergate Bay, Cornwall

If you find Fistral Beach too crowded, you may want to head up the coast a few miles to Watergate Bay. Like Fistral, it offers excellent surfing conditions, with consistently good waves to catch. You'll still find other surfers here, but it's less likely you'll be crashing into one another every 30 seconds or so.

Professionals practice here, but it's also a great surfing spot for beginners, with the variety of waves from high to low tide offering something for everyone. Another bonus is that the shelter of the cliffs mostly keeps the waves from getting too intense during high tide, even when conditions are rough elsewhere.
Harlyn Bay, Cornwall
Another spot in Cornwall with great surfing conditions, Harlyn Bay, near Padstow, is an attractive, sandy stretch of beach that provides a lot of shelter from the wind. When conditions are good, this bay is suitable for all skill levels, and you'll likely find a large number of novice surfers taking their first forays into the waves here.
However, depending on the tidal conditions, the height of the waves can sometimes get a little bit too challenging for those who are just starting out with surfing. It's also likely to be fairly busy here in the holiday season, as this is a popular beach for family groups as well.
Cayton Bay, Yorkshire

Cayton Bay, near Scarborough, is an unspoilt sandy beach with a natural feel to it that makes a great setting for a surfing excursion. The water can be on the colder side so make sure you're well insulated.

This is a great surfing spot for surfers of any experience level, from beginner to expert, as it's a lengthy bay with different surf conditions in different spots. The middle of the bay offers more relaxed waves for those just starting out, while experts can head to the Point, where the headland creates bigger swells to catch. The amount of space in the water here also means that overcrowding isn't a problem.
Porth Neigwl, Gwynedd
Porth Neigwl, also known by the inviting name of Hell's Mouth, is a remote beach on the south coast of the Llyn Peninsula that boasts excellent surfing conditions. Despite the name, this place is as suitable for beginners as it is experienced surfers, except when the waves get really big.
The bay is rarely busy due to its remote location, which is great if you're looking for an escape from the crowds but can be an issue if you get into trouble, especially since there are some dangerous riptides in the water here. It's recommended that you stick near any other surfers in the water for safety.
Kimmeridge Bay, Dorset

Located on Dorset's Jurassic Coast, Kimmeridge Bay combines some stunning scenery with a wide variety of surf conditions, a perfect combination for a day on the waves. Depending where in the bay you go, you can find calm waves suitable for beginners or more intense swells that only experts can handle.

Some areas are shallow and rocky, though, and surfing conditions can be inconsistent here. Another thing to be wary of is the military firing range to the west of the bay, as shells have been known to land in the sea. They fly a red warning flag on days when the range is in operation, so be sure to check before you head into the water.
Thurso East, Caithness
This one is not for the faint of heart, or those who don't have a lot of experience, but the bleak setting of Thurso East in Caithness has some of the best surfing conditions in the UK for those who are up to the challenge. It's hosted a number of international competitions, but the difficulty of riding the swells here mean you won't have to dodge the crowds.
You'll have the chance to catch really big waves at Thurso, with some reaching 30 feet or higher. The waters are icy cold, though, particularly as the surf conditions are only really right in winter, and the rocky reef below the water can be a threat to the unwary - take care when surfing here!
Surf Snowdonia, Conwy

Admittedly, this artificial surf lagoon may not appeal to those looking for an authentic experience, but when it comes to consistent waves to catch, you can't beat Surf Snowdonia. It helps that, unlike so many other artificial versions of extreme sports, it's not tucked away in an aging leisure centre on an industrial estate, but instead sits outdoors in the middle of the glorious Conwy Valley.

The reliability of the waves make this a perfect destination if you're just getting started with surfing, but that doesn't mean that more experienced surfers won't appreciate the opportunity to perfect their techniques in a consistent surfing environment. The downside is that, unlike the sea, you have to pay to surf here - prices for a 1-hour freesurfing session start at £30 for adults and £20 for children.