Yorkshire holds some of the most spectacular rural scenery in the UK and many of the best sights in the Yorkshire Dales National Park are easily accessible to visitors. The characteristic rolling hills, abundance of woodlands, ponds, rivers and waterfalls are full of protected wildlife. There's a chance you'll see peregrine falcons diving for their prey, salmon leaping up the falls or red squirrels scampering up the conifers. It's unsurprising this part of the northern countryside has provided inspiration to some of our greatest writer, poets and painters.

Not only does this region offer a great opportunity to get back to nature but it also boasts some unique geological spectacles. From limestone valleys and mighty mountains to underground caves and cascading waterfalls, the Yorkshire Dales hold some of Yorkshire's top natural attractions.
The Dales are worth a visit at any time of year as each season boasts its own glory. Each area is slightly different. The Southern Dales are less remote, yet still wildly beautiful. The Northern Dales provide wild heather moorland and valleys full of hay meadows, drystone walls and barns. To the West, pretty villages and small towns have individual charm.
We've picked 5 stunning Yorkshire Dales beauty spots just waiting to be explored:
1) Gordale Scar - a limestone ravine
J M W Turner painted it, William Wordsworth wrote about it. Perhaps it was the inspiration for Helm's Deep in Lord of the Rings? Gordale Scar, an imposing limestone gorge is at the northern end of Craven Fault, a 22- mile geological fault line which runs from the borders of Cumbria into the Yorkshire Dales. To appreciate its true size, you'll need to follow the easy footpath from the road, as the enormity of the ravine is only visible at this vantage point. If you get up close to the base of the cliff, you can look straight up the impressive white limestone face. The fact that the gorge dates somewhere around 15-16 million years old makes it all the more impressive. Once, when the cliffs were much higher than they are now, a waterfall larger than Niagara Falls fell over these cliffs.
2) Malham Cove - a rock amphitheater
Nearby, and linked by a circular walk, the beautiful cove at Malham was formed from a waterfall carrying meltwater from glaciers. Its gently curving cliff of white limestone has amazed and enthralled visitors for centuries.

Over the last one and a half million years, Malham was probably covered at least three times with huge sheets of ice. As these glaciers ground their way over the landscape, they plucked rock from the face of the Cove and carried it away. Each time the glaciers melted, huge floods of water further eroded the face of the Cove. So significant is its geology, that it was featured in the BBC's 'Seven Natural Wonders in Yorkshire'. Keep a look out also for rock climbers testing their skills or birdwatchers observing the resident peregrine falcons which have become a famous attraction.
3) Aysgarth Falls - triple flight of waterfalls
High on the list of natural features of the Yorkshire Dales is Aysgarth Falls which cover a one-mile stretch of the River Ure as it descends down to mid-Wensleydale and the village of Aysgarth itself. This extraordinary triple flight of waterfalls is best seen during wet weather as thousands of gallons of water cascade over the series of wide limestone steps. It's unsurprising that such a beauty spot, with its woodland surroundings, has been featured in films many times, including Robin Hood: Prince of Thieves and Wuthering Heights.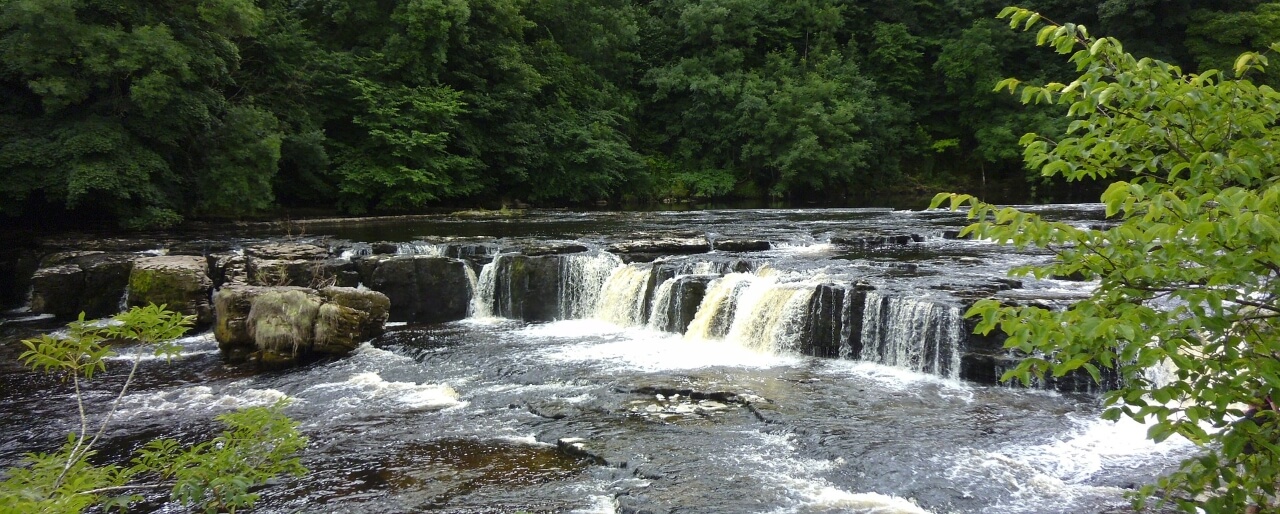 4) White Scar - longest show cave in Britain
Much of the region is limestone and that means that the area is riddled with cave systems and potholes. It follows, therefore, that one of the most popular things to do in Yorkshire is caving and our list of natural attractions in the Yorkshire Dales wouldn't be complete without mentioning the impressive White Scar at Ingleton. White Scar is the largest of three spectacular show caves. It rises to 30 meters high in places and measures an amazing 90 metres long making it one of the longest show caves in Britain. Its name comes from the colour of the steep craggy outcrops of limestone rock that rise above the cave's imposing entrance. Step inside and you'll be guided along a trail to see underground streams, hear thunderous waterfalls crashing into rocky pools and learn about the strange and varied rock formations. The large passages are full of artefacts dating back millions of years along with evidence of the significant impact of the Ice Ages. The highlight of the tour is the Battlefield Cavern. It contains thousands of stalactites, which hang from the roof in great clusters. Expect knowledgeable and enthusiastic guides and plenty of information on this mile-long tour. Just beware there's 97 steps and 2 low-roof passages where you may need to bend down.
5) Whernside - the highest point in Yorkshire
It's always good to reach the top and where better than at Whernside. This mountain is the highest of the well-known Yorkshire Three Peaks, Ingleborough and Pen-y-gent, being the other two. The walk that circuits them is around 23 miles, depending on the exact route. Most paths are well worn and if you spot walkers looking particularly focused they may be attempting what's known as the Three Peaks Challenge so they'll be trying to complete the whole in under 12 hours.

Not only may you see walkers taking doing the Three Peaks, but cyclists and mountain runners have created their own races here. Rest assured there will also be many strollers and, if you want something less challenging, there is a walk that takes you just to Whernside. The views over to the Lake District and Morecambe Bay on a clear day are spectacular.
If you're taking a holiday in the north of England, make sure you don't miss out on these natural highlights of the Yorkshire Dales.
Jennie Maddon is a freelance writer